I Need to Sell My House, and Fast!
If you've reached this page, it is likely that this thought has crossed your mind. Maybe you're about to lose your house because you've lost your job or your mortgage payment is higher than what you can afford. Maybe you purchased a property at the peak of the market, and now your house is worth less than the amount you owe. It might also be that you inherited a home which you've been unable to sell because it is in such bad disrepair. Maybe you've tried to sell but your real estate agent hasn't been of much help and you are left wondering if there is someone out there who will buy your house fast.
We Buy Houses Nationwide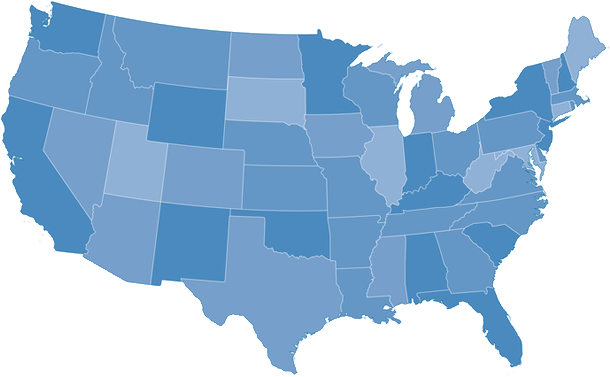 Common Reasons Good People Get Forced To Sell Their House
Relocation: Whether you decide to move or you are forced to relocate because of work reasons or military deployment, you need to do something with the house your leave behind.
Divorce: This is another common eventuality that may force you to sell your house. Couples are expected to split property by half if there are no prenuptial agreements. In case you are going through a divorce and you fail to agree with your partner who should take the house, you might be forced to sell your house against your will.
Job Loss: Also, you may have lost your job thus you are no longer in a capacity to meet your mortgage payments.
Debt: You may also be in debt i.e. you owe a company or someone money yet you are unable to meet your repayment obligations. If you debt is more than the value of your house, you may be forced to sell your house.
Increasing Crime Rate: The crime rate in your neighborhood may have escalated to a point where your family isn't safe.
These are just some of the reasons why a person may need to sell his home. Regardless of your reason, you should know that you are not alone. Hundreds of thousands of people find themselves in a rush to sell their property every year. Most of them end up losing their homes to their bank, their debtors, the government or their homeowners association. We have helped many people in your situation. We understand what you are going through, your challenges and your fears. When you talk to us, we will work diligently to understand your real estate problem and offer you an effective solution.
It is better to face reality and do what you need to do to move forward… But we are here to help
One of the most challenging decisions a homeowner has to make is selling her house. This is because of obvious reasons i.e. emotional attachment, financial realities, etc. You may have spent a better part of your life living in a home you cannot longer keep. You may be forced to sell your house because of life's twists and turns and as unthinkable as it may seem, it is better to face reality and do what you need to do to move forward. That is however easier said than done. It is not easy to sell your house when you are out of time and/or money, but we are here to help! Our goal is to find a win-win solution to your property problems, save your credit, and get the money you need to get back on your feet.
Who Will Buy My House?
We are a group of experienced real estate investors with members in every major market in the US and Canada. Although some of us hold real estate licenses, we are not real estate agents by trade. We buy all types of houses across the country. A Realtor will make you sign a contract just to list your house on your local MLS and hope for a buyer to come around. We instead will make you a serious cash offer to buy your house using our own money.
Our goal isn't to take advantage of you. Our goal is to offer you a fair solution to your problem in the shortest time possible. Even if we don't end up buying the house, we are happy to help you fix your real estate problems. We routinely help homeowners refinance, find tenants, correcting code violations and settling liens and other legal issues.
Think of us as your real estate problem solvers. We help people solve their real estate problems. Homeowners who are at risk of losing their house come to us after failing to sell their houses through traditional means, or when they are simply out of time. In most cases, these homeowners need to sell their house fast and we are able to make them a serious cash offer and buy their house.
What Types of Houses Are We Looking For?
We buy most types of real estate including Single Family Houses, Condominiums Townhomes, Mobile Homes and Vacant Lots. As long as the property can be developed into a residence, we are interested. If you have a type of property that you are not sure we buy, please contact us anyway.
We are looking for houses of all sizes and conditions and we don't care if your house is new, old or ugly. We want to buy your house, even if it has zero (or even negative) equity, even if it is in such a poor condition that no bank is willing to finance any potential buyers, even if it has liens, code violations, and other legal problems attached to it!
These are some of the houses we recently purchased:
Costs Accumulate Every Day, So We Buy Houses Fast!
We understand the urgency of financial constraints. We understand how difficult being forced to sell your home to avoid a mortgage default or bankruptcy must be. Although most real estate agents may not be willing to solve your problems because of their own selfish motives, we don't compromise our timelines. We move fast to get things done in the shortest time possible, saving you time and money.
How Can We Buy Your House So Fast?
We are national real estate buyers. More than a house buyer service think of us as your real estate problem solvers. Our goal is to help out homeowners like you solve their property problems. Homeowner who are in risk of losing their house come to us after failing to sell their houses to traditional means, or when they are simply out of time. In most cases, these homeowners need to sell their house fast and we are able to provide them with an all cash offer. In other cases, we are able to contact the banks to renegotiate the homeowner's debt and alleviate their burden. Our goal isn't to take advantage of you. Our goal is to offer you a fair solution to your problem in the shortest time possible.
We can buy your house even if your house is ugly, in danger of foreclosure, entangled in legal problems, late on payments, or damaged beyond repair. We know how to solve even the most complex real estate problems which most agents just don't know how to handle. And since we are using our own money, we can close really fast! That's because we are not Realtors; we are professional home buyers and we have the real estate knowledge, legal resources, and funds available to fix most real estate problems or buy your house for cash.
Have a Distressed Real Estate Expert Take a Look at Your Case
Enter your information to get a complimentary case analysis
How Does The Process Work?
After you reach out to us, a local professional with a proven track record will get in touch with you.
The process is more challenging if you have short timelines. This is where our expert home buyers comes in. We understand how challenging it is to sell your house on a rush, which is why we give distressed homeowners the assistance they need to get their finances back on track. No one would want to sell their house to get a second chance in life. Unfortunately, life is full of uncertainties and sometimes things happen beyond our control, leaving us with no choice but to sell our house.
Kenneth F. Miami Gardens, FL.
Sell Your House So You Can Get On With Your Life!
You are not the first person to be in such situation… we've helped many people in your place
One of the biggest fears homeowners face when they find themselves forced to sell their homes is the fear of being scammed. It is a fact that selling in a hurry exposes sellers to potential significant losses because of greedy buyers (sharks) and time constraints. Real estate agents love home owners selling their homes on distress because this puts them in a better negotiating position. They will push you to the wall to see how desperate you are. If you are have no choice and time, you can be forced to sell your house at half price or lower, losing years of savings and investments. Having to sell your home fast is one of the worst situations a homeowner can find himself in. It is important to note that there are still a few good real estate professionals who don't want to add misery to your already difficult situation.