Tips and Tricks for Selling Your House Faster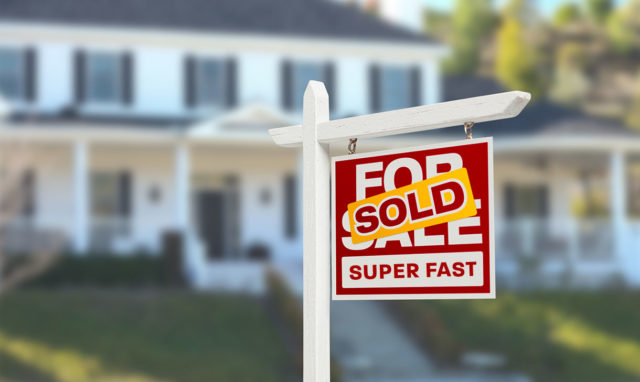 "Price it right, it sells overnight. Price it wrong, and it stays on too long!"
This is one of the many quotes you may have heard in the quest to sell your house.
Look:
You may be wondering which are the tricks you can use to sell your house fast. Well, a study by the Real Estate Staging Association revealed that homes staged before listing received offers within an average of 20 days. This is 90 percent faster than those who waited for listing before staging their homes!
Other tricks include; rearranging furniture, cleaning your home while thinking like a buyer and amplifying the curb appeal.
Selling your home involves a few simple steps that can make you land a buyer in a short time. From determining your asking price to preparing your house for sale, you will understand how to close the deal fast in this article.
Here is a step-by-step guide on how to sell your house:
1. Pick a selling strategy
Choosing the method, you are going to use to sell your house affects every other aspect of the process. These aspects include the cost of selling of the home, the preparation you will need to perform as well as the selling strategy.
There are many channels you can use to sell your house other than hiring a real estate agent. You can sell your house to NeedToSellMyHouseFast.com regardless of its condition. Moreover, you can try For Sale By Owner (FSBO) too.
Let's analyze the pros and cons of each of these options.
Hiring a real estate agent
A real estate agent assists homeowners to match their homes with the perfect clients for any price offered. Most sellers prefer to work with real estate agents because they know the local market expectations, pricing, and tricks that will work.
For assisting you in closing a sale, a real estate agent may charge 5-6 percent commission which varies depending on the location of the house. Remember that there are other costs you will incur when selling your home other than agent fees.
The other downside of hiring a realtor when selling your home is that you will be one of his many clients struggling to get his attention. If he is a busy realtor, then your home may not get the attention it deserves.
Using For Sale By Owner (FSBO)
As a home seller, you may want to make as much money as you can from the sale of your home. Therefore, hiring real estate agents will not be in your options if you intend to reduce the cost of selling your home.
Apart from making more money from the sale, you will also have control of the entire process and devote your full attention to the sale of the house. However, the downside of For Sale By Owner is that marketing your home without an established network is difficult. Most for sale by owner websites are not effective.
Request a cash offer from NeedToSellMyHouseFast.com
This is the best option you can make if you want to sell your house fast.
Here is why:
NeedToSellMyHouseFast.com considers all houses across the country no matter their conditions, locations, or situations. All you need to do is a request for a cash offer from them to sell your house.
You contact them about your intentions, and after that, they will view your home. You do not have to worry about the upgrades and repairs because NeedToSellMyHouseFast.com does not ask its clients to improve their houses.
Finally, NeedToSellMyHouseFast.com will offer you a competitive cash deal for your property. If you agree with the price, then you can close the deal as soon as you want to.
2. Determine your asking price
The pricing of your home directly determines how long it will stay on the market: weeks or months.
Therefore, you need to be keen when deciding on the asking price for your property.
The traditional way of valuing a home entails manually selecting the recently sold houses within the neighborhood, then estimating your asking price.
Difficulties may arise when your house lacks the features that the recently sold homes have. Such features can be pools, vaulted ceilings, or even a mountain view.
In such instances, you have to find a way to increase your home value to price it competitively. One of the ways to increase home value is to update the kitchen and bathroom of the house. Moreover, you may increase curb appeal with landscaping.
You can determine the asking price of your home using online valuation tools such as PennyMac value estimator. You can also work with a realtor or get a professional appraisal.
3. Prepare your home for sale
Once you have decided on how you are going to sell the house and dictated your asking price, then the next step is to get your house ready for sale.
A house in a better condition always gets more offers and will be easier to justify its asking price based on its features. Here are some of the tips you can implement when preparing your home for sale:
A great first impression can play a significant role in winning over a prospect. One of the ways to impress the potential buyer is having a stupendous home lawn. You may mow the lawn, prune the trees or plant flowers.
If you want to stand out in the property market, then your house has to be free of damages and faulty equipment. Whether it is the broken windows or a leaky roof, you must repair them to attract buyers.
Make the front door attractive
Just like landscaping, the front door provides a first impression of the house to the prospective buyer. Make the door standout by using a color that contrasts with the home. You can replace the faded house numbers on the door too.
Remove every unnecessary item from every room, ensuring that you leave them spick and span. Get a storage unit and pack away the items that are making the rooms untidy and crowded.
Keep personal belongings away
Personal belongings, including family pictures and religious items, should be kept away because they can distract buyers and prevent them from imagining themselves living in your home.
Empty the litter box and fill the house with inviting scents when showing the house to a client. A house with a bad odor will turn off a prospect any day.
This is a great selling point because a client will make a storage space decision based on how organized your closet is. For example, if your closet is stuffed to the brim, then a buyer may conclude that the wardrobes are also small.
4. Market and list your home
After preparing your home for sale, the next step is to market it. If you are working with a real estate agent, they would list your home on the MLS Database and market your home by doing the following things:
Posting signage in the yard to indicate that your house is on sale.
He can organize an open house or host a broker.
Co-ordinate professional photographs for your house.
Remember that if you chose to sell the house by yourself, then you will have to do all the above alone. However, the most critical part of the home selling process is to get your house into the MLS database, which is the source of data for all the Real Estate Search Engines in America.
The realtors will check the MLS database daily for updates. An FSBO seller will list his or her house on the MLS database by paying a flat fee.
You can avoid all these stress and challenges by requesting for a cash offer from NeedToSellMyHouseFast.com. It does not matter the condition or location of the house. After viewing the house, you will get a cash offer within a few days and close the deal to move to your new home.
Get your house on NeedToSellMyHouseFast.com today!
5. Be flexible with showings
People do not buy what they are not aware of. Therefore, until you understand that showcasing your home is an essential part of the home selling process, you will take longer getting a client.
The more people you show your house, the more likely you will get a buyer even when you think the time is not convenient.
Your house needs to be clean and neatly arranged at all times to provide a winning impression to potential buyers. You may even move out of the house and stage it so that it is always ready for showcasing to a client.
Potential buyers will view your home without distractions when you stage it for showcasing. Therefore, if you want to sell your house faster, moving out of the home is one of the options to consider.
Other showing tips include:
Offering a warm welcome.
Cultivating an inviting atmosphere where your visitors can freely express themselves.
You may offer snacks and refreshments while showcasing your house too.
6. Review the offers and negotiate
Reaching this stage in the home selling process is exciting yet demanding at the same time. You have showcased your home to several potential buyers and clients are already showing interest to buy the house.
If a buyer is interested in the house, he or she will send a written offer to you. This offer will be delivered to your agent by his buyer's agent. However, if you have decided to sell your home via FSBO then, an interested buyer will send the offer directly to you.
Important things to check in a buyer's offer beyond the offer price include:
A buyer may request an extended closing date due to reasons such as their offer being contingent on the sale of their homes. Or perhaps they are moving to a new job.
If you have other offers with a shorter closing timeline, then you will abandon the prospect requesting for an extended closing date.
If the buyer decides to pay for the home using the all-cash choice, then you would close the deal in a matter of days. However, with a buyer who requires bank financing, it may take longer to close the deal.
Every offer always comes with a pre-approval letter and proof of funds. These documents are proof that your buyers can obtain mortgage financing and have the ability to close the home sale.
7. Accept the offer and close the deal
After accepting the offer, the home will be removed from the property market. The buyer will be allowed to inspect the home to give the green light of moving forward with its purchase. The process of inspecting the house and making the decision to go ahead with the purchase is known as due diligence.
After the due diligence process, the next step is for the buyer to obtain financing for the home. In this period, banks will scrutinize the buyer's financial situation to decide if they can be given a mortgage loan or not. This stage is known as the underwriting process.
Signing the title and escrow documents is the only thing left to close the deal. A valid photo ID is one of the things you should bring when signing the escrow documents.
Documents showing that the seller owns the house will be recorded in public records during the closure of the escrow. After that, the agreed amount of money will be deposited in your account and voila! You sold the house!
8. Moving to your new home
Many homeowners wait until they have sold their current homes before purchasing a new one. You could begin shopping for a new home if you sold your house directly to a company that buys houses using their capital such as NeedToSellMyHouseFast.com.
Selling your house should not be a tedious process. Instead of hiring a real estate agent or resorting to For Sale By Owner, you can sell your house faster with NeedToSellMyHouseFast.com regardless of its location or condition and pay no closing costs. Give us a call today to request for cash offers!